Situated 25km south of Boonah lays one of South East Queensland's best freshwater fly and surface fishing destinations.
Lake Maroon (Maroon Dam) is a small impoundment having a surface area of 350 ha and an average depth of 9.6 meters.
It lays close to the base of the Great Dividing Range on Burnett Creek, a tributary of the Logan River.

Fishing
The absence of forage species such as Snub Nosed Gar and Bony Bream has lead to stocked species feeding on insects and crustaceans.
This means that most of the food in Lake Maroon is in & around the lake margins.

One of the best techniques to catch bass at Maroon Dam is to cast very shallow diving lures in towards the weed margins. Using short rips in your retrieve with plenty of pauses can drive bass crazy. Low light times (morning and night) will see bass take surface lures. In the middle of the day, fish further out from the bank with sinking bibless lures or soft plastics hopped across the bottom.
The bass in Maroon Dam are willing fly takers. Many south east Queensland anglers have caught their first ever fish on fly here. Surface flies on intermediate or floating lines in low light conditions, and any number of sinking flies on intermediate or full sink lines when the sun is up work well. Early morning and late afternoon are the best times to be fishing here. As a general rule, as the sun gets higher, the fish go deeper.
Stocked species include Golden Perch, Silver Perch, Mary River Cod and the most popular target here, Australian Bass.
* A Stocked Impoundment Permit (SIP) is required to fish Lake Maroon.
Boating
Maroon Dam is open to all forms of boating activities with no restrictions on speed or motor size.
There is a No Boating / No Fishing zone around the dam wall. Fines apply.
A single land concrete ramp is provided. This is usable from around 15% capacity and higher.
Below this level, boats can still be lauched with care next to the boat ramp, however a 4X4 may be required.
Camping / Accomodation
There is no public camping area at Lake Maroon.
Private operations are in the area. See Accommodation page for details.
Related Links:
Purchase Stocked Impoundment Permit on-line - QDPI&F
Surface Luring for Bass - Article by Garry Fitzgerald
Lake Moogerah Information Page
Lake Wyaralong Information Page
Lake Maroon Map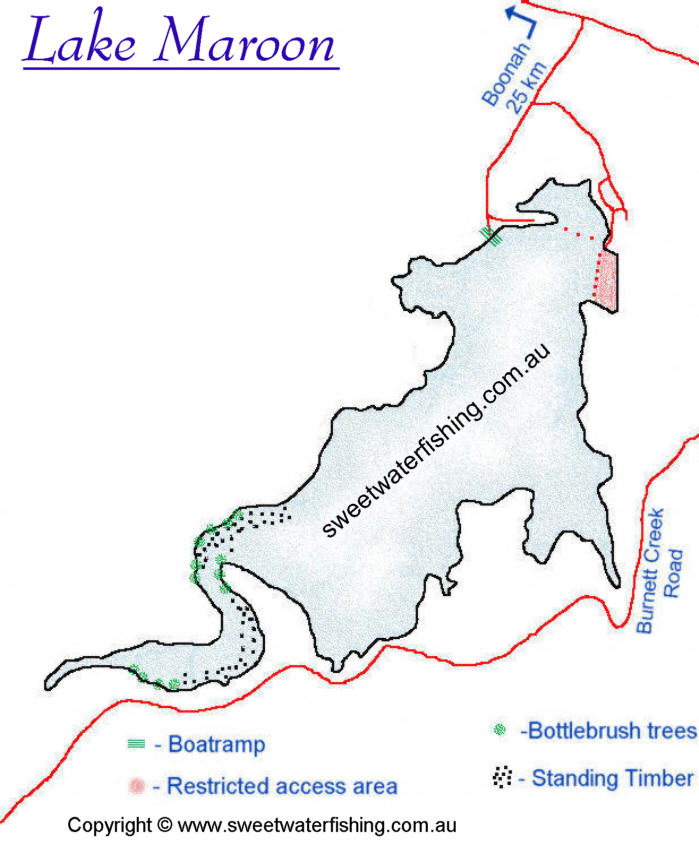 Click on map for larger printable version