Located in the Western District of Victoria near the Grampians ranges, Rocklands Reservoir provides a drinking water supply for the Wimmera and Mallee regions.
Balmoral is the nearest town that is situated on the Glenelg River leading into the reservoir.
Construction began in 1938, ceased over world war two and was completed in 1953.
With a total shoreline of over 400km, it has some of the best bush camping near a lake available in Victoria.
Camping / Accommodation
There are caravan parks at the wall, Glendinning and Hynes as well as farm stays and B&B's available.
See the Accommodation index for details.
Fishing
The main species are redfin and trout with a good population of yabbies available as well.
The redfin are some of the biggest in the state with the larger ones close to 3kg while the trout max out at about the same weight. The water is often very clear and the fly and lure fishing can be very good at times.
Best baits are small yabbies, live galaxid minnow and worms. Redfin can be successfully jigged amongst the many dead trees that cover around 90% of the lake and there is enough room to troll or cast lures for trout.
Unfortunately, the drought has hit Rocklands hard and it is a shadow of its former self at 3% (August 2007).
At its peak, you could be sitting on the bow of your beached boat and toasting marsh mellows at the camp fire. Currently, the water is a fair way from the bush.
The wall is the deepest section of the lake and is clear of standing timber. The lake bed near the wall does have very good redfin fishing as there are plenty of large boulders and sunken timber here.
Not far upstream the timber starts and can get quite thick around Glendinning. Glendinning is regarded the best trout spot in the lake due to the abundance of mudeye (dragonfly lava) and minnow. Hynes area does have a few open areas clear of trees where some very large redfin are known to haunt when the water is high.
You can have a bet each way by trolling minnow styled lures in Rocklands could see you tangle with either a redfin or a trout. Larger redfin tend to hand in the very deep sections while trout can be caught at any depth all year except for very hot days.
Neil Slater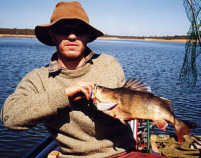 Gav Maloney with a solid Rocklands Redfin
Related Links
Water Level Link
- GMW Water