Family Fishing Trip to Northern Territory - by Tony Bennett
Another happy waiver signaled that our 6 week fishing adventure was drawing to a close. For the "happy waivers" were the set of 50yo+ Mexican, Cockroach and Croweater retiree's heading north to avoid the frost bite of a southern winter. South of Katherine, it seemed that every sparkling 4WD hitched with a shiny new van was being piloted by a mid aged couple looking forward with anticipation of what laid ahead. Greeting everyone heading south to where they had come from with a gleeful waive was just part of their journey.
Early April saw our family along with the Wren's, Nick, Michelle and Will (from Echuca) hitch up our boats and head north to the NT in search of the legendary Barramundi. The holiday had been planed for many months and seemed to take eons to arrive. The trip was to become known as the "World Famous - Going Off" tour. It seemed that everything in the territory was titled, be it self titled "world famous". From Mattaranka Pies to the Gecko Shirts at the Parap market, the Road Kill Café's "lamb shanks" at the Mindil Beach market to the "World Famous" sign?? at Corroboree Park and Humpty Doo sausages, everything was "World Famous". The other common catch phrase that we encountered was "Going Off". All reports from other anglers and tackle sore proprietors suggested that the fish were "Going Off" everywhere bar where we were fishing. It seemed that we were always in the wrong spot at the wrong time. If we had chased the fish across the territory according to the reports we were receiving, we would have done more miles than Bourke and Wills.
The trip didn't get of to a great start with Nick & Michelle running into trailer trouble just short of Renmark. Before leaving home they had their boat and trailer serviced. Unfortunately "Mr. Serviceman" forgot to tighten the wheel nuts on one side of the tandem trailer. The problem was discovered to late and the damage, potentially very dangerous, had been done. One rim had a single wheel nut left while the other had three nuts remaining. This had caused the rims to flog out and also damage the braking system. Fortunately they were able to limp into Renmark where they received great assistance in getting them back on the road. The only problem was that they had to wait a day until suitable parts were brought up from Adelaide. We decided to continue on and catch up further down the track. Getting in late to Port Pirrie, we camped out the front of the local "Friendly" family caravan park, agreeing not to wake the park manager after hours. In the morning we drove up a one way street to the park, asking to pay for the use of their showers. We were bluntly told "No, we don't allow it". I asked if she could kindly raise the boom gate so we could turn around and was once again told "No, you can reverse out". I can tell you, reversing out, over 100meters into oncoming traffic didn't make me real happy and needless to say, I don't recommend a stay at the "Friendly Family Caravan Park" in Port Pirrie.
Heading north, our next major stop was at Mattaranka to pay a visit to the crystal clear thermal springs. The springs had just been reopened after the wet season. During the wet, the much despised fruit bats had caused some massive damage to the surrounding vegetation. Fortunately for the park, the bats had been moved on by local rangers and things were starting to return to normal. The springs are naturally occurring and run at a constant temp of 34deg c year round. The kids had eagerly awaited the stop at Mattaranka for they had come prepared this time, not with their swimmers but with golf clubs. The only problem was that golf was not on their mind; cane toad eradication was the plan. After dark the torches came out and the hunt was on. In recent times the cane toad has made a massive march into and across the territory in massive numbers. Some people may think this is cruelty but when you see the visible damage that toad's have done to the territory wildlife population, you will have pleasure in teeing off on a toad also.
With the Wren's joining up again it was time to move on. After a stop in Katherine at "Rod & Rifle" for necessities and the supermarket for food, it was off to Woolianna on the Daly River. Being Easter Sunday, the park was full of locals who had escaped Darwin for the weekend. We were greeted by a couple of eccentric, bordering on strange, queer and different park owners who directed us, military style to our camp spot. After setting up it was amazing to see the Daly River running at full noise. The river had peaked a couple of days before and was just beginning its run off. Over the next four days we were there, the river dropped at least 1 meter per day making for an amazing sight. Each night we moored the boats on the banks edge, thought had be given to where your boat may be in he morning. Tie up too short and you will be pushing your tub down a mud bank. Boating down the river, it was scary to see the size of some of the trees that were being washed away like small twigs, bobbing up and down and making boating rather dangerous. The first thing that hit us when we ventured out for a fish was the heat and humidity. Sweat was replaced as quick as it appeared with a good slug of water but this seemed like a never ending cycle. The smell of the rotting vegetation coming in off the flood plains seemed sweet and sticky but also had a smell to it if that makes any sense. Fishing on the Daly for the first couple of days was tough with knowledge lacking and water conditions not being favorable. Day 3 of fishing was reserved for a trip to Clear Creek, some 60 odd kilometers downstream. Reports were some good Barra were coming from that area. Surprise surprise, after the trip down there we landed zip. It was interesting though to see a creek turn into a vast flood plain the further we ventured up it. Thankfully the day after, Nick and Michelle rescued the trip to the Daly by coming across a small run off creek about 5 feet wide. It had tell tale signs that fish were about with plenty of birds working around the mouth chasing small bait fish. They were greeted with some big Barra boofing left, right and centre. Casting smaller lures they managed to land 6 nice fish from 55cm up to a PB for Michelle of 93cms. Young Will had had the pleasure of having the first "meter'y" on for the trip but the fish ended up winning the battle. Fortunately for us, Nick and Michelle came looking for us on the river and directed us back to the spot. On arrival back at "secret spot 1" we found a small fresh water croc sitting on the bank. I threw a cast towards it to see its reaction but nothing happened. Blow me down, on retrieving the lure back to the bank it got gobbled up by a 54cm Barra. The next day we decided to move on from Woolianna as we were advised that if we wished to stay we would have to move to another site. Rules stated that if you camp on the grass for more that 4 days, you must move so the grass didn't die off? The grass grew at a rate of about 1" but it didn't matter to the park owners, they were more worried about it than their customers. On leaving the Daly we decided to check out the Banyan Farm (Tourist Park) for future visits. We were greeted by Wal, a happy go lucky, carefree bloke who made us feel more than welcome any time, needless to say it's the Banyan Farm for us in future.
| | |
| --- | --- |
| | |
Click on images for larger version

Point Stuart Wilderness Lodge located approximately 140kms East of Darwin, 25kms off the Arnhem Hwy was our next stop. From here we planned to launch at the Shady Camp barrage and fish 40kms downstream at the mouths of both Sampan and Tommycut Creeks in search of big Barra. Also fishable after launching from Shady barrage are the numerous Jewie reefs in Chambers Bay, located between 7 and 16kms out from the mouth of Sampan Creek. With calm seas and no wind these reefs were easily reachable in our smaller boat, a 4.55 Hornet Wildfisher and the Wren's "Big Red" 5.40 Freedom Sport. The first two days fishing here saw perfect conditions to fish the reefs so bait fishing was the go. Groups of boats, mostly guide boats, could be seen far off shore. This was a good sign that the Jewie's were on the chew. The best bet was head out to where they were, find a patch of reef and set anchor. Fishing ethics out here were non existent with a large pro fishing boat moving in on top of who ever was catching fish. As fate had it for us, Friday 13th April turned out to be one of our better days fishing with some great fish caught but the camera happened to be left home. The highlight for us was landing a Hammerhead shark measuring in excess of 2 meters and estimated to weigh over 80lbs. Questions could be asked why this was brought on board but it was fascinating to have a close up look and touch of such a creature. Other good captures from our journeys off shore were Tori's Black Tip Reef Sharks and Vanessa's Blue Salmon. The highly sort after big Black Jew's eluded us but this is where the crew from "Big Red" came to the fore with their bait fishing skills. After several bust off's, Nick boated rip snorter measuring in at 1.20meters. The third day we ventured out to the reefs proved to be a pretty foolish decision. Conditions were pretty rough to say the least and small boats don't go well in a 2 meter swell. After having more than a foot of wave break over the front of and into the boat, washing Vanessa of the front deck and onto the floor, we set sail for shore as quick as possible. The day wasn't wasted though as both boats stopped for a fish in the mouth of Sampan Creek. Catfish became the target species and they proved great fun. Cooper landed one measuring 95cms, Vanessa one a 98cms and Nick broke the meter mark with a 101cm fish. These fish put up a great fight and we estimated they weighed around the 30-35lb mark.
Moving on from Point Stuart, we decided to fish some water we had not seen before and head out to the South Alligator River, some 100kms further east. Luckily enough, Yarrawonga resident John Fry was one of the first guides to work this region 20 odd years ago. He had armed us with some very handy tips on how to fish the river before we left home. To top off the info we had from John, we were lucky enough to pitch camp next to a very knowledgeable bloke, Ian Wooden from Narrandera. We nick named Ian the "Oracle of the River" as he always seemed to be catching fish but spent as much time cruising between other boats yakking and swapping stories. Without his help though in understanding the tides and run off, we would not have caught the fish we did. The first day on the river saw us head up Nourlangie Creek chasing fish that were boofing small bait fish along the edge of the bank. Vanessa was lucky enough to hook into a 61cm fish on a small soft plastic. This fish proceeded to carry on jumping out of the water until it jumped over a low hanging tree branch and hung itself in mid air! Day 2 saw Vanessa and Tori have a fish free day with Coop and myself heading out for a play. Heading further up stream before lunch, we headed out into a small flood plain creek that was very picturesque. The tactics out here was to cast small soft plastics into the tea colored run off water is search of some smaller fish for a bit of fun. Cooper mastered some sort of erratic retrieve that proved the goods. He land 5 Barra ranging from 44-55cms while I think I had 2 hits. Leaving this creek, we headed back to the mouth of Nourlangie to fish the run out tide. Some great meter plus fish had been caught here over the past week so it was a matter of anchoring your boat amongst the other dozen or so and start casting. Big fish were smashing mullet all over the place so the natural weapon of choice was a shallow diving, silver mullet colored lure. After a couple of big hits that failed to hook up "BINGO" I was onto a fish that was sure to blow my PB of 81cms away. After a couple of good solid runs I had a great Barra boat side. With the help of Cooper, the fish was landed photographed and released. In the mean time, I was pretty sure that I had reached the "Magical Mark" but the best the tape measure could give me was 97cms. Nick, fishing near by had hooked into a monster that gave him curry. He got a glimpse and near on went into shock mode. The fish was estimated at around 1.20 meters and was unfortunately lost when it did a lap around his anchor rope and busted off. The next day was fished the same with trip to the floodplains the first stop. This time the girls were not missing the trip for quid's. Vanessa and Cooper landed a few small Barra and then it was back to Nourlangie Creek again. Coinciding with the best time of the run off tide, the last hour of light proved to be great fishing. Vanessa was unlucky to loose two fish that were well over the "MM". One snapped a barb off a treble while the next snapped 50lb braid after VB tried to pull it up. Next thing I had hooked up and this thing played up like a $2 watch. Using a new Barra 6kg rod from the Wilson Live Fiber range I gave this fish as much as I could and the rod did not look like faltering. In less than 2 minutes my PB had gone from 97 to 98cms but not quite the much sought after "Magical Mark". To top off the night Michelle landed and released a great 87cm Barra. Plans were made that night to fish into the dark the next day to catch the best times of the tides and try our hand at Barra on the surface. Things were going fine with Nick getting some good hits on his fizzers until a god size croc decided it was going to porpoise out of the water and have a look into our boat from a meter away. This put the wind up us and took our mind off fishing for a while. The night time fishing idea was then thrown out the window and we headed back to the ramp to be greeted by zillions of bugs and another friendly croc waiting near the ramp. The final day staying in Kakadu was spent fishing "Yellow Water Lagoon" at Cooinda. This was a nice looking place but we could only muster up a couple of hits from Toga's. While in Kakadu we stayed at the Kakadu Aurora Resort in South Alligator. I would highly recommend this place as it has great facilities, the staff make you feel very welcome and you are only 3 kms from the water.
| | |
| --- | --- |
| | |
Click on images for larger version


Next on the agenda was a weeks R & R in Darwin with a spot of fishing thrown in. We stayed out at the Palms Resort in Palmerston which is a great place if you are camping or caravanning. This gave us all a chance to have a look around town and make it to both the Mindil Beach and Parap markets. These markets, especially the Mindil Beach are "World Famous" and are well worth a look. If it's food you are after, you have come to the right place. If you can't get it here it hasn't been invented yet! While here we fished Darwin harbor that is littered with wrecks. Legend has it that they are frequented by Jewie's or Snapper but not for us. Vanessa managed to land the ugliest fish in the world that still remains unidentifiable but that was all we got. Saving the day was a pod of a dozen dolphins that swam around our boat for half an hour or so playing, jumping and seeming to have not a care in the world. The only other trip we had from our Darwin base was out to Leaders Creek. Fish weren't plentiful here but the standout for us was Cooper landing his very first shark. While in town we spent a night with ex school buddy Mandy Champion (now Starr) Leit & new baby Trinity. We had a ball and it was great to catch up.
There was still plenty of fishing to be done so the Bark Hut Inn, back out on the Arnhem Hwy was our base for the next 6 days. The BHI is centrally located between many fishing venues and is a great spot to venture out from. Corroborree Billabong was the first point of call with some serious Toga fishing on the menu. Armed with some info from the "Oracle of the River" back at Kakadu, we targeted these fish on the bottom instead of off the surface as is the traditional method. Bassman Spinnerbaits and Bozo soft plastics did the damage with some good fish up to 68cm being landed. "The Big Red" cast more hard bodied lures than us and picked up some nice Barra also. With the spinnerbaits and soft plastics, if they weren't cast to within 2 inches of the base of the Pandanas trees, you were out of the ball game. The next day a 120km round trip out to the mouth of Tommycut Creek was planed to suit the spring tides in search of a mega sized Barra. Apart from a couple of massive hits, the most enjoyment we had was navigating the tight and narrow "shortcut" from Sampan Creek through to Tommycut. Returning back to the barrage at Shady camp, we picked 3 pint sized Barra in as many casts. We were then informed that the big Barra were "going off" here a couple hours earlier at high tide??? Hardy's lagoon was our next adventure destination as we had not seen this place before. At the boat ramp a friendly croc kept swimming around on the surface as if to say "keep away from my nest" so we disappeared in a hurry. The fish didn't play the game for the day with only one gracing our gunnels. It did stay in the memory though as it fought like Mike Tyson and didn't want to come near the boat. In the end, Mr. Wilson's Live Fiber Territory Barra rod had the final say and 14lb, 73cm pig was photographed and released. One last trip to the South Alligator was on the agenda next to coincide with what we thought were perfect tides. The only problem was the fish hadn't been told it was the perfect time to bite. Only 1 in the mid 50's was caught between the 2 boats for the day. To finish of our stay at BHI, one last jaunt to Corroborree took place. This time it was the Bozo plastics that landed a good batch of Togas.
Packing up camp had become an art with 2 hours max being needed from go to woo. This time we were heading back to the Daly River while the Wren's took a different path and headed out to Dundee Beach. The main reason for the trip back to the Daly was to have a look at the iconic Barra Classic fishing tournament and for the kids to participate in the Junior Barra Classic fun fishing day. Out at the Banyan farm it was great to catch up with many good friends from within the fishing industry and share some of the stories from our trip so far. In a lead up to the classic, many flash looking boats graced the river trying to find some fish and gain an advantage come comp time. The Junior Barra Classic day saw the majority of competing boats in the senior event generously give up their time to take out some kids. This gave the kids a chance to have a fish, learn a bit more about the art of fishing and most of all have fun. A bus load of kids come out from Darwin and joined up with the children already at the park. In total around 80 participated for the day. Tori and Cooper were luck enough to have pre arranged a seat in Mr. Lowrance, Dave Silva's boat for the day. The kids had been in practice for a month or so and were looking forward to the day. Dave's tactics for the day were to troll around the "S Bend's" area. Having fished this river on many occasions, having a sounder that could see the fish's mind changing and knowing each snag on a personal basis, the kids were in great hands. The day turned out to be most memorable with Cooper having all the fun (as usual). For starters he was snapped off by a big fish that took a liking to his Mullet colored Halco Scorpion lure. Coop's only drama was that he was going to have to pay Vanessa $16 for it as she had just purchased it the day before for the trip out to the Daly. Following this he lost 2 other great fish with a lack of experience (and coaching from his father) being the major factor. Up steps super coach Dave and the results were instant. With Dave's help and assistance, Coop landed a magnificent 90cm specimen on one of the new Oar-Gee Barra lures in the "purple people eater" color. This fish managed to take out biggest fish for the day and all involved were stoked. Coop received a small trophy for his effort but topped it of with a great speech that thanked Dave, Lowrance and Oar-Gee Lures. A couple more days were spent at the Daly looking at the classic and how it was organized. Credit must go to the Darwin Game Fishing Club for the show they have created as the waiting list to compete is long and the feeling amongst competitors is have fun, fish hard and most of all, try and take home a "Barra on a stick".
Nick and Michelle arrived back at the Daly with tales of fish landed from Dundee Beach without managing to get into the legendary Jewie's from that area. To top off the trip for them young Will'o landed a 78 & 84cm Barra. Not a bad effort for a 7yo. The only thing left from here was to pack up camp and unfortunately head for home. After 40 days fishing all good things had to come to an end. A stop at Ayres Rock was part of our plans but this turned out to be disappointing as they closed the rock for climbing on the day we were going to attempt the trek. I honestly don't know how good they day must have to be for authorities to allow the climb but there was not a breath of wind, conditions could be described as overcast at worst and people were scratching their head asking why? I'm sure in the not too distant future the rock will be close for good (for climbing) due to public litigation / liability and the many other do gooders who seem to be part of the set up. We took a quick trip out to the Olga's and then it was back on the road to home again. A couple of days stop over fishing for some big green fish in SA waters was mulled over but the closer to home we got, the stronger he pull to our own beds was. The change in landscape color from when we left in early April to the end of May was incredible. It was great to see that the rain had returned and people had a positive outlook for the future.
There are plenty more stories to be told from the trip but what I have penned is the trip in a nut shell. All in all it was an amazing journey with some great memories gained. A big thanks must go out to many people including Dad & Heidi for looking after Oscar, Lynn & Simone for taking care of Megs, ADI & Franks Footwear for giving us both time of work, Anthony Pavlou and L. Wilson & Co Tackle for supplying the Wilson Live Fiber Territory Barra rods. These were unbreakable and I can't recommend them highly enough. Phil Alder from Bozo's soft plastics who was responsible for many fish being brought on board. Faraz from Ugly Fish sunglasses. These didn't leave our heads (or eyes) for a couple of months. The people we met and caught up to along the way including Pete & Alisha Shepard, Mandy Leit & Trinity Starr, Mick & Josie from Kunnanura, Ian and ??? Wooden (sorry I forgot) from Narrandera, "Philthy" Phil & Eugene from Darwin, Hodgie, Dave & Gaye Silva, Darren Mel & Liam Ryan, Brett & Michelle Terossi, Wayne & Debbie Lennon, Rick Huckstep, Cord's, Jack Erskine, Scoop and Andrew "ET" Ettingshausen just to name a few.
The biggest thanks of all must go to Nick, Michelle and Will Wren. For the 7 weeks we were together there was not a bad word between us, nothing was a problem for them and they proved great company. I would be more than happy to set off together on another trip and I'm sure we will do something similar in the future with plenty of rooster calls to come! RrRrRrRr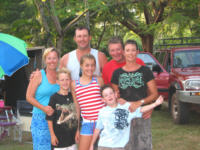 Tony Bennett
Northern Territory Map
Copyright© 2007 Tony Bennett. Sweetwater Fishing Australia